Wistamiya II - Hasselblad SWC's poor relative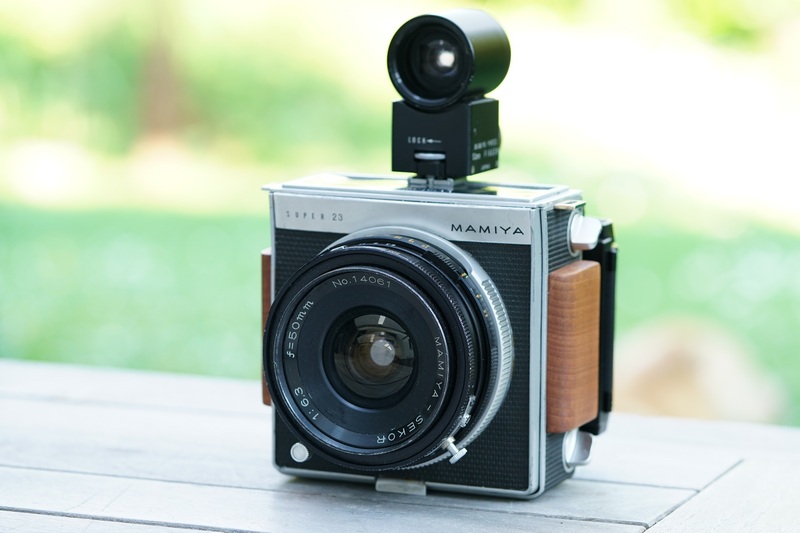 Of course, the craftsmanship of an old (yet only of an old) Hasselblad far surpasses mine or even that of Mamiya. But still, there are similarities. And the 50mm Mamiya lens offers a similar angle of view on 6x9 than the 38mm Zeiss Biogon does on 6x6 (horizontally, the Mamiya is wider still).
And the Biogon may be better corrected and be even sharper – but the Mamiya is no coke bottle lens either.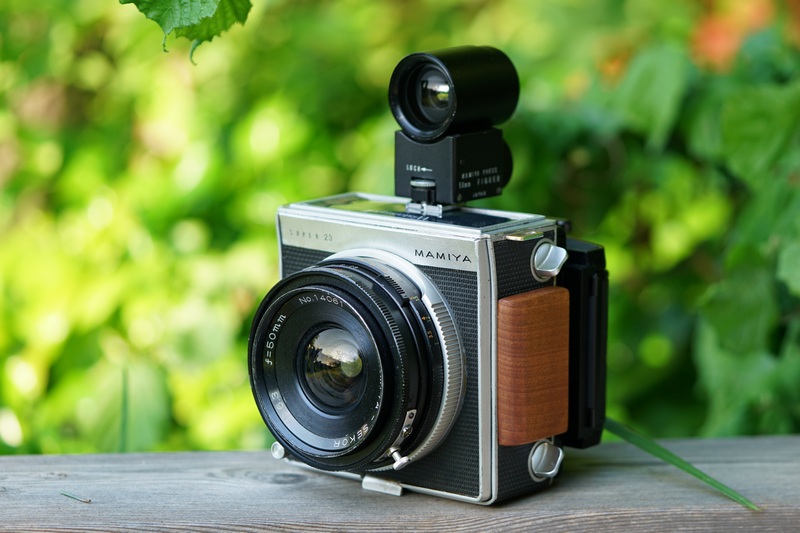 So that was the plan: Make a more compact alternative to my first Wistamiya (in short – cut off the rangefinder from a Mamiya Press camera) and retain most of its other functionality. Also, I planned to enable the use of an existing Wista 6x9 magazine, because the original Mamiya M magazines are too bulky for my taste and awkward to use (they have a good reputation for their film flatness, however).

Admittedly, this camera isn't even very original, there are numerous modifications like this shown on the web, the camera layout offers a perfect basis for this and prices are moderate. Also, the rangefinder is of limited use when mounting a 50, 65 or 75 mm lens, where you anyway need an additional clip-on finder. And should one need critical focus anytime, there is a ground glass adapter available.

Roughly speaking, there are three different kinds of Mamiya Press cameras:

- Standard and "Press", with small rangefinder and either Mamiya M or Graflok back, some also with tiltable back

- Super 23 with large rangefinder and tiltable Mamiya M back

- Universal, with large rangefinder and fixed – but exchangeable – back

In order to have a more compact film holder and a tiltable back, I could have also looked out for a Mamiya Press with Graflok flange and cut of the rangefinder there. Since I already had a spare Wista magazine (and have had good experience with it) I decided to go for a Super 23 as basis and have adapted this back.

So the resulting camera isn't quite unique, only just:

- It is relatively compact, but also pretty heavy at around 2 kg complete with lens, compared to below 1400 g for a Hasselblad

- It allows the use of the Wista film holder on its Mamiya M flange

- It keeps the tiltable back of the Super 23 donor camera

- And it gains two nice side panels made of cherry wood, instead of the grip

I plan to take the camera to the Baltic sea this year….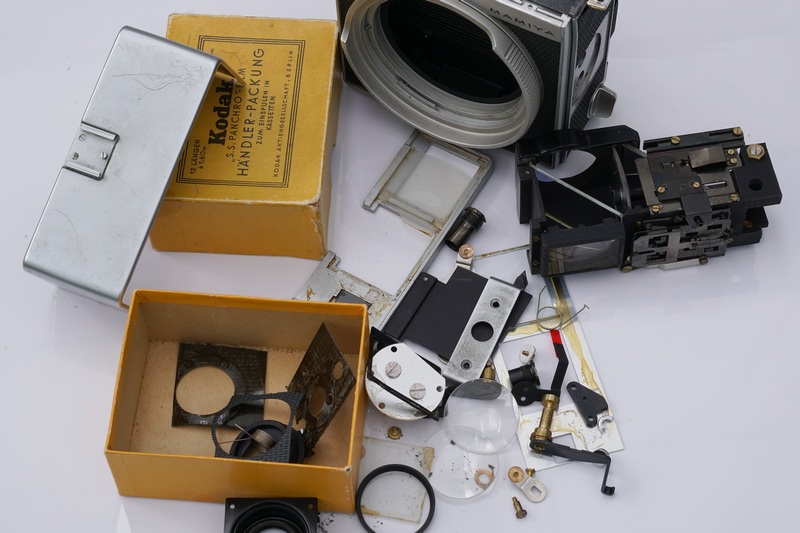 Isn't it remarkable how many small parts such a rangefinder contains? This is by no means a 'simple' camera.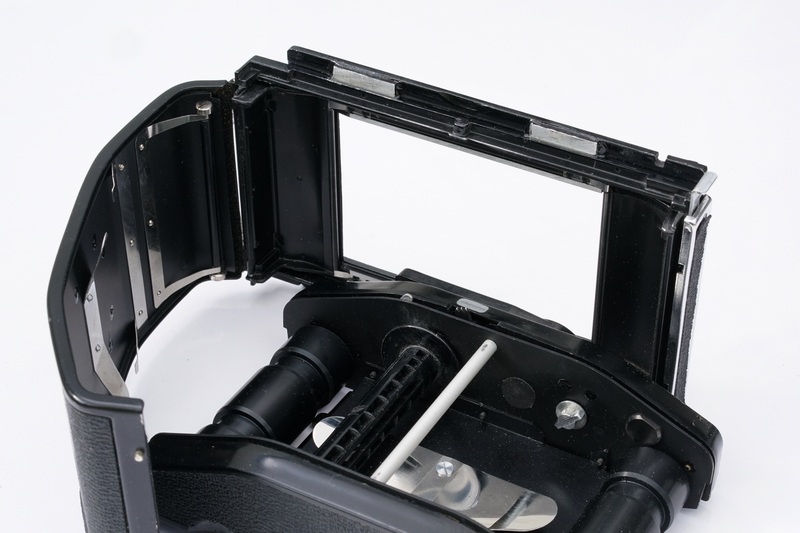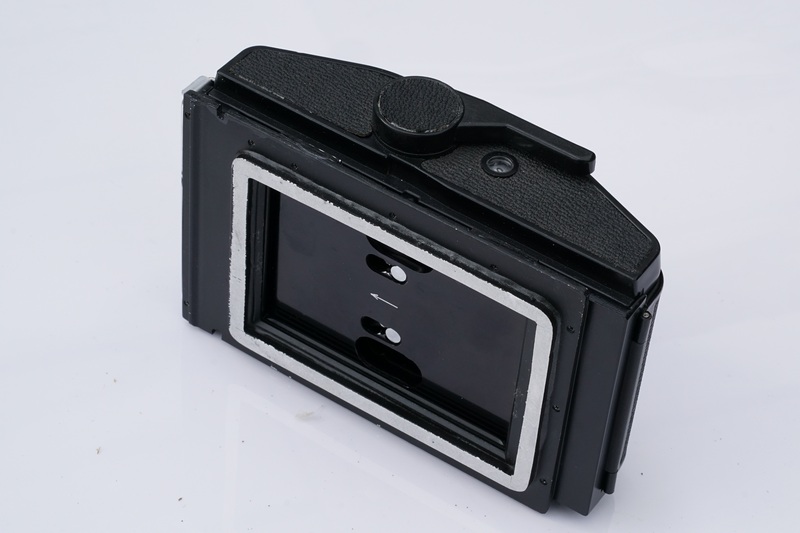 Not much to show here, since the amount of manual work is hardly visible. I should really look for a milling machine…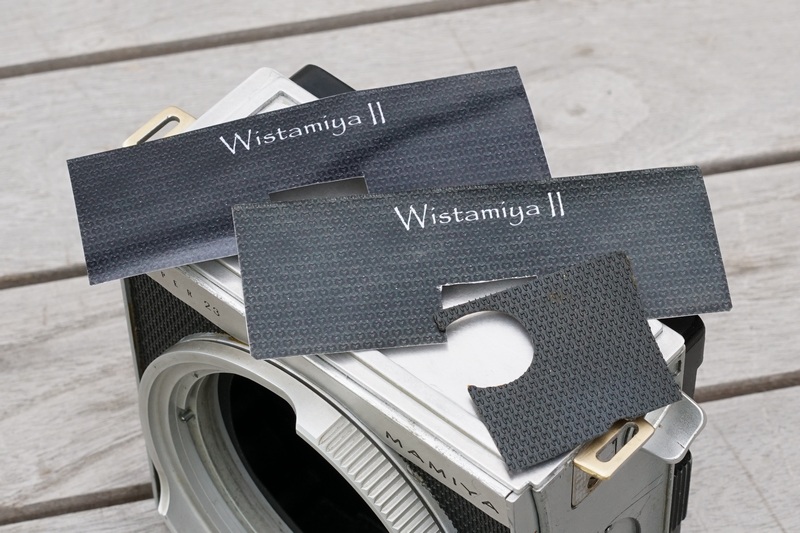 At first, the top plate was a simple peace of aluminium that looked pretty boring. I did not have enough pieces of the original camera "leather" (with lovely little "M"s embossed), so I fell for the idea of scanning what I had and multiplying and printing a large enough piece. As it turned out, it is pretty difficult to get a good color match, but the result looks funny nevertheless.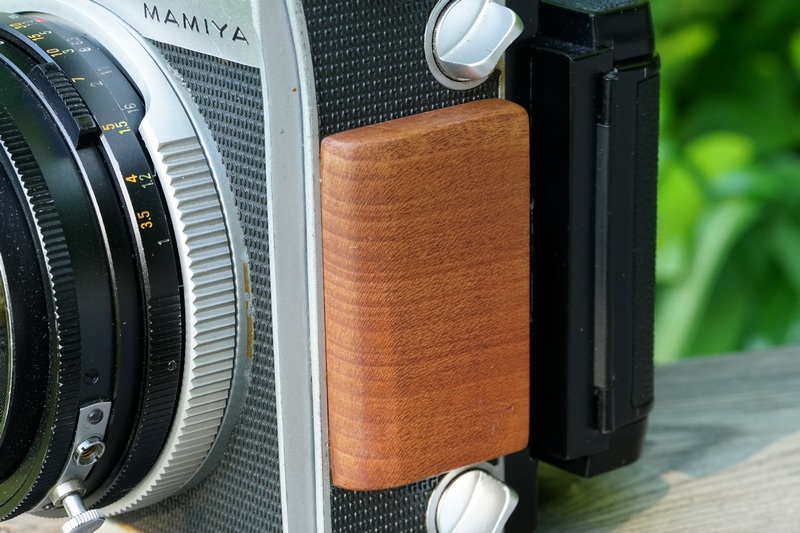 The standard Press cameras bear a very functional but bulky grip, that I have no use for, since I am no Japanese newspaper reporter. Instead, I have produced these small side panels from cherry wood and I even plan for a wood turning alternative.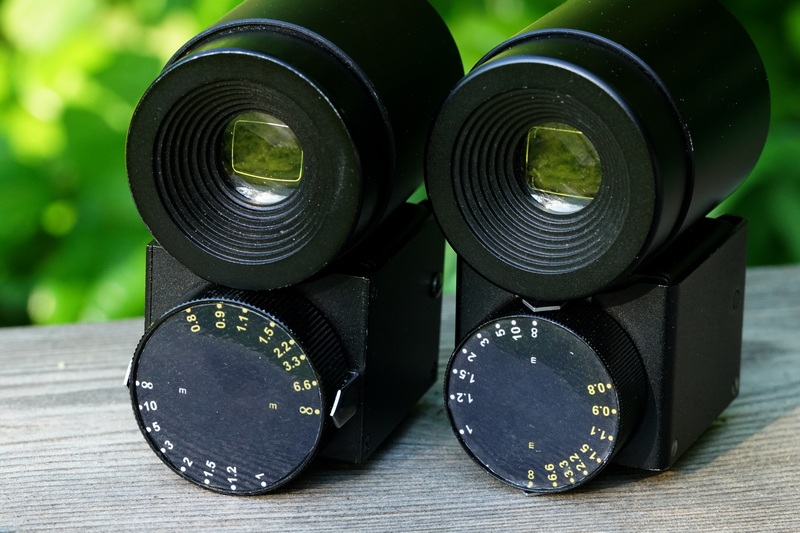 The original Mamiya finders can be adjusted according to the distance to the subject, to correct for the parallax error between finder axis and camera optical axis. Since the finder now sits lower, the values given on the adjusting wheel are no longer correct. I have calculated new values and have indicated them instead of the feet scale. This way, I can now use the finders both on a regular Press camera (using the white scale) and – using the yellow scale – on this camera.
This is how the resulting camera looks with the back extended and with the right angle finder: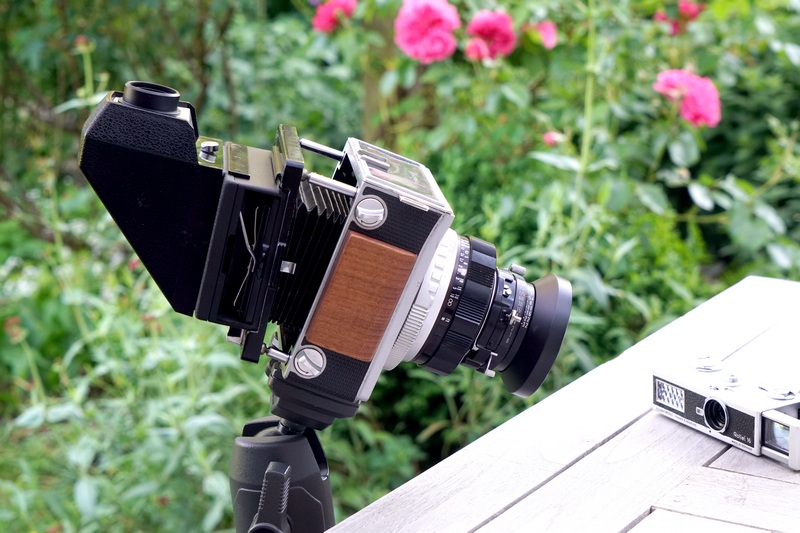 Shown here with the (very good) 5,6/75 lens: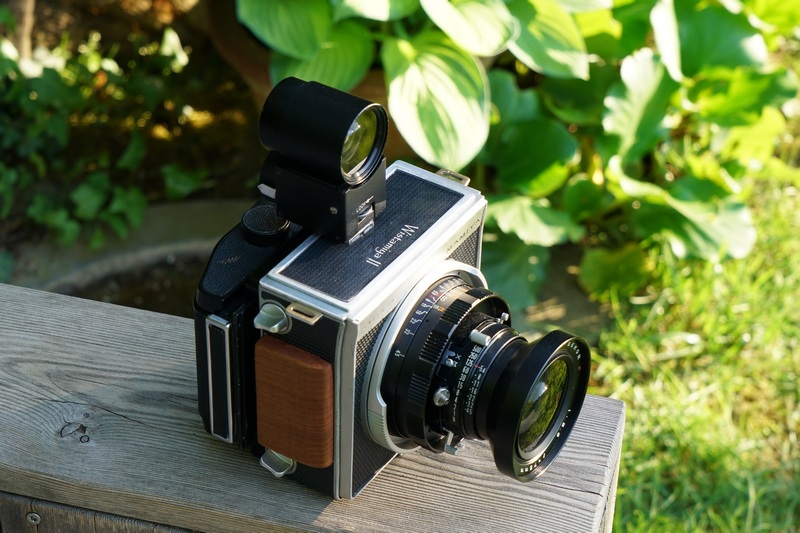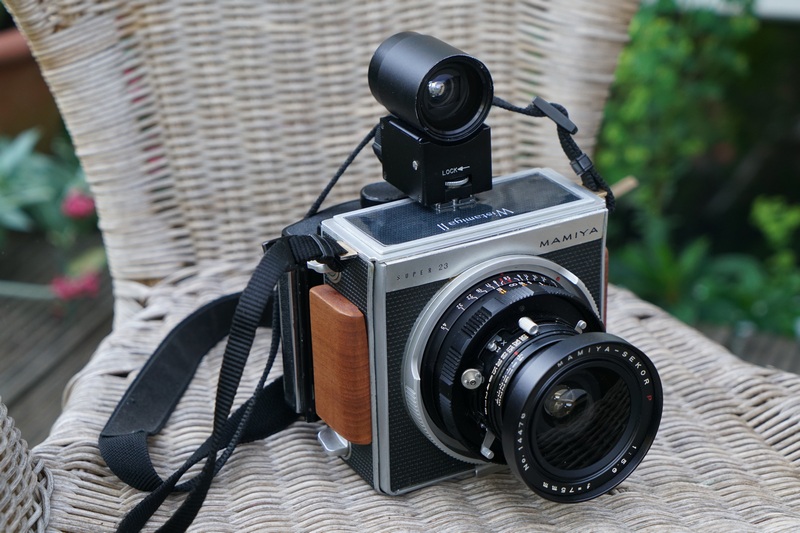 Ford's nice Streeka Roadster, built 2003-2005, taken on Fuji Acros 100 (very good film) with the 50mm Mamiya Sekor: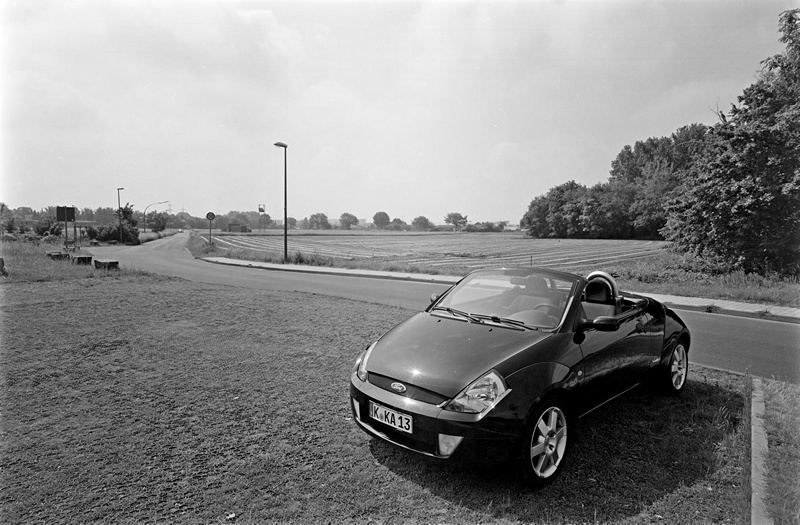 And here with the 75mm: